From Barack and Michelle Obama to P Diddy in royal kente, you must have seen at least one of Dennis Owusu-Ansah's illustrations of American stars in African appearances on socialmedia. Dennis Owusu-Ansah is a New York-based Ghanaian artist whose pop art images are taking Instagram and social media in general by storm, it is therefore not surprising that he caught the eyes of CNN for the following feature:
Reworking and reimagining some of the world's biggest artists in authentic African clothing and cultural attire, Owusu-Ansah is highlighting the beauty of Africa through his work..

With bright block colors contrasting intricatepatterns, the images have transformed the likes of Drake, Rihanna and Beyonce into powerful African icons in traditional dress and with traditional names.

"After witnessing my friend get teased by a group of men for wearing a kente cloth on our way to church, I figured something must be done to change the perspective of people who are not familiar with the African culture," he told CNN.

"They had no idea what my friend was wearing. One of the guys shouted 'That man has a blanket wrapped around his body like it's winter time.' I saw this incident as an opportunity to educate people about who we are, and what we stand for through my art."
After that life-changing moment, 26-year-old Owusu-Ansah decided that he wanted his art to tell a story and for his audience tolearn, "that Africa isn't only about what themedia portrays on television," but that it is "a continent rich in history, diversity and traditions."

Choosing to depict celebrities trending in the entertainment business, Owusu-Ansah knows that they have an influence on their fans.

By illustrating them in African clothing, he hopes that it will bring awareness to traditional culture, and allow people to start educating themselves and those around them in African culture.

With over 12,000 Instagram followers, Owusu-Ansah's fanbase is growing every day and he has even branched into creating unisex clothing.

His work doesn't seem to be slowing down and neither does his audience in their quest for accessible African art, knowledge and tradition.
Dennis Owusu-Ansah,  New York-based Ghanaian artist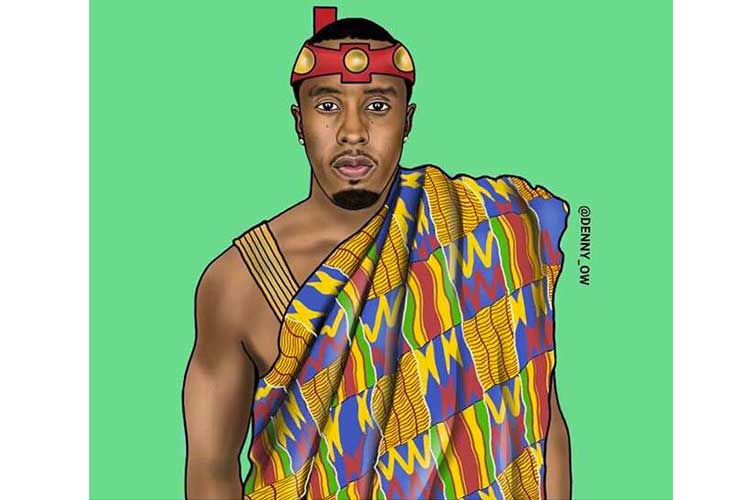 SOURCE: CNN
POSTÉ BY NATHALIE ZEMGBO FOR SUCCESSMAG.CA